Those WIPs are still calling, but of course I had to work with some of the yarn I bought in my shopping frenzy. I've been looking for a pattern for a man's scarf that a real man would wear, (non-GQ type), and they are sorely lacking. Most are so plain that I'd spaz out from boredom in about 5 minutes. So, I mucked around and came up with a simple, yet decent pattern that I think will work well as a Christmas gift. I used 2 hanks of that yummy
Silky Tweed
yarn I picked up and it is oh-so-soft.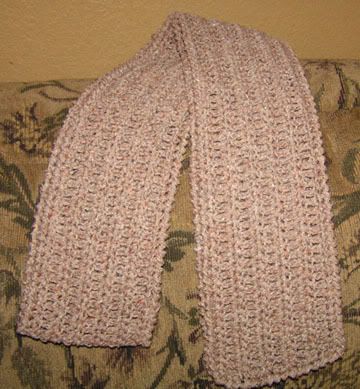 It's comprised of nothing more than alternating rows of dc and sc. The edging is simply a single row of sc ending with a row of reversed sc. The finished dimensions came out at 4 1/4" wide x 64" long.

I also finished up a couple of charity items ~ a baby blanket, sweater and cap. The blanket is made with Paton's Melody. The sweater and cap are done in Bernat Softee Baby.




And finally, I finished up a few 12" afghan squares that are going to a fellow grouper in need, as well as, my Halloween swap at CFL. Whew! There are still a few WIPs left, so I'm going to get back at it. My goal is to have as much of them finished this weekend so I can move on to other projects.

I've also put myself on yarn restriction until I use up at least 50% of my stash. That should put me out shopping again sometime in late 2007 - LOL!!

Ciao for now,
Mini