In my shopping frenzy a few weeks back, I picked up a couple of balls of Patons SWS [Soy Wool Stripes] in yummy fall colors. I decided it would make a nice man's cap and sifted through my patterns until I landed on the

Stonehedge cap

pattern from

Crochet Garden

. I lucked out big-time here because I ran out of yarn and had to go back for more and with 2 balls left in the bin, one of them was the same dye lot I was using (whew!). So here be the finished result.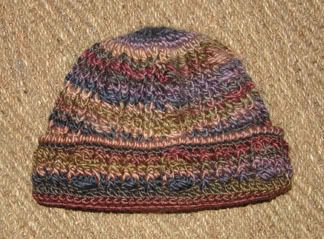 This is a nice heavy hat that completely covers the ears and is perfect for those who live in colder climates than southern california. I made it for hubby so he can wear it when he's out on the ocean in his kayak netting lobsters (still waiting for the return on investment on that purchase!)
I had followed the instructions for the large size ~ as my husband has a big giant head ~ and it came down well past his eyebrows. So I frogged a few rows before I started the brim. The pattern is a wee bit on the large side. But then again, my husband doesn't have a lot of hair :D
As you work this yarn, any rubbing of the fabric while you work will cause fuzzing. So anything made with this yarn will require the use of a sweater shaver to maintain it's look. I'm not sure I'd make large items with it because of this, but for smaller items like this hat, the colors are drop-dead gorgeous and there's a wonderful sheen to it. It's definitely worth adding a few balls to your stash!
Happy Monday ;)