One of the challenges at CFL for July is to make something you'd find at a party in any fiber. I know. I made up the challenge. You'd think I'd pick something I already had in mind ~ kind of a perk, ya know? Hah!

I've always pondered making the
Excruciatingly Painful Party Lights
, and I thought, 'hey, these would be perfect. I'll just work up a crochet version!' Ah-HAH!

Well, lemme tell ya. Crocheting with wire is a real treat. First, your fingertips get sore as all get-out. Then, there's gaining mastery over the wire. Word of advice ~ wear band-aids and if your wire doesn't come on a spool, put it on one! I'm sure I would have found this advice on the net if I had taken a second or two to look. Oh, and don't use your nice wood hooks. Grab your least favorite Boye or Bates. I didn't make that mistake, but after wrestling with the wire, that thought did occur to me.

Once I got the knack of it, it started to go a whole lot better. Well enough so that I'd post the instructions for others to give it a whack. So here you go!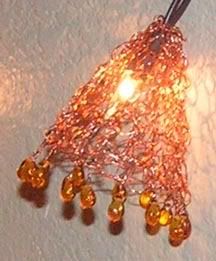 Pain In The Butt Party Lights
Materials
26 gauge wire in your choice of color
Teardrop shaped beads
1 String of Mini Lights (I'd recommend a string of 10 or 12 if you can find them, not the strand of 35 that I bought!)
Size H / 5.0mm hook
Soothing music

Ch 23.

Row 1: Ch 2, 2 dc in 1st ch, dc across to last ch, 2 dc in last ch; turn.

Row 2: Ch 3, dc in 1st dc, dc across to ch-3, 2 dc in ch-3; turn.

Row 3: Repeat row 2, finish off leaving a long tail.

Finishing

Sew seam. With ending long tail, sew up seam. With both tails together, make a few tight twists. Cut wire and discretely tuck in end.

Stretch to shape. Stretch your piece both lengthwise and widthwise. Shape into a cone shape.

Add beads. Cut another piece of wire about twice the diameter of the bottom of the cone shape. thread a bead onto the wire and give it a couple of twists. Thread through the last row of stitches. Continue in this manner until you have a nice bead edging.

Secure to light string. Cut a small length of wire and thread it through the beginning chain. Place your 'globe' over the base of the individual light. Pull up wire around the top where the string wire meets the light base. Twist the two ends together, cut and hide the end.
Personally, I don't know how Zabet Stewart got control of the wire with knitting needles. I am amazed no hook was involved. Let me know if you're brave enough to give this a go! LOL