Hi, My name is Jose. I'm 3 years old and I live with Mini and her husband. I came to live with them about a year ago. They take care of me and take me on car rides all the time. So, (sigh), I tolerate it when they try to dress me up. This is me in my fairy wings that we got at the Renaissance Faire last spring. Nice, huh?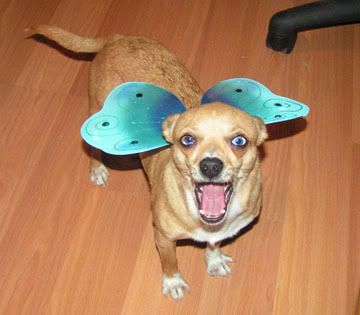 Then there was the board shorts and the straw hat when we went to Pismo Beach. Thank God, they don't have a picture of that! This is my latest torture, a hat for Halloween. I guess it's supposed to be witch legs coming out of my head. My ears didn't fit in the ear holes. Stupid hat.


OK, I've had enough! This thing is coming off! Don't you have a yarn sale at Michael's to go to today?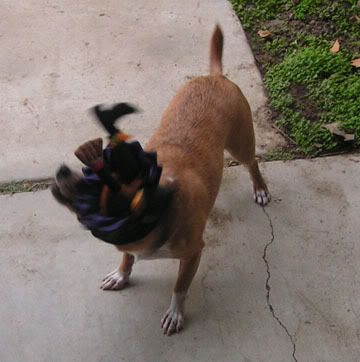 Don't get me wrong, I'm very thankful that I escaped the shelter and I love both of them dearly. But geez leweez man! Do they have to waste money on this crap?! I live in fear of what's awaiting me for Christmas :\
I'm going to go hide under the bed for a while.
Jose