As I've mentioned many times before, one of my current fave yarns is
Marble
by James C. Brett. I worked up some super simple wristlets in it ~ playing around mostly to see if they could become Christmas gifts. I think they came out good enough to rate as a giftable item if I couple a pair with a scarf. Maybe... or maybe I'll just keep 'em :oD

These are the colorways that I used ~ Berry (my favorite), and so far, the
One-Skein Scarf
in the green/pink/blue (can't find name).




Doesn't the green/pink/blue colorway remind you of an English garden? I just love how this yarn works up!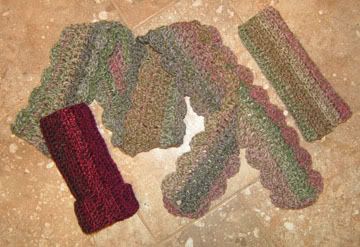 Here is the super simple pattern for the wristlets (aka, tube with a hole): H (5.00mm) hook

Note 1: Turning ch does not count as the first stitch. You will be stitching in each stitch. This will make for smoother, straighter edges at the top and bottom.

Note 2: Add or delete rows to fit your hand as needed. I wear a medium size glove and 13 rows worked well.

Ch 31. (ch 36 if you like a fold-over cuff)

Row 1: Hdc in 2nd ch from hook and in each ch across, ch 1, turn. (30 or 35 hdc now and throughout)

Rows 2 - 13: Hdc in back loop of 1st hdc and in each hdc across, ch 1, turn.

Working through back loop of Row 13 and beginning ch on opposite side, sl st in first 10 sts to join upper portion of wristlet; then sl st in next 5 ch on the back side only to make the thumb opening; skipping 5 hdc of the front side, pick up to continue joining both sides and sl st to end. Finish off and weave in loose ends securely.

That's it~ like I said... a tube with a hole!




Ciao for now!