As I'm realizing that Christmas is closer than I think ~ at least as far as making gifts is concerned ~ I'm starting to put in some real effort into indentifying which portion of my stash will go to make which gift for which person.

That said, here's what I've been working on this weekend.

Another Fat Bottom Bag
I bought this hand-dyed cord-type yarn specifically to make another one of these. It's not quite as bulky as worsted weight, so I dropped the hook size down to H. Therefore, it will be a wee bit smaller than the last one I made. I'm only halfway done with the body of the purse at this point, but wanted to share the yarn in the worst way. This has tropical summer written all over it!




The lighting made the colors come out brighter than they actually are, but the colorway is definitely bright.




Considering I'm halfway done with the body and I've only used up a small portion of the yarn, I guess I'll be thinking up things to do with the rest. If you have any ideas, please feel free to share!

Another Scarf
I'm participating in the '15 Weeks 'Til Christmas' CAL at Crochetville. The pic below is my scarf-of-the-week. I used the
Fringe Fabulous Scarf
pattern for inspiration. Since my ladder yarn was bulkier, I used an N hook and only 1 strand for fringe. I also knotted the fringe as opposed to 'hooking through the loop' to attach it. The yarn I used is Allegro by Online which has been discontinued.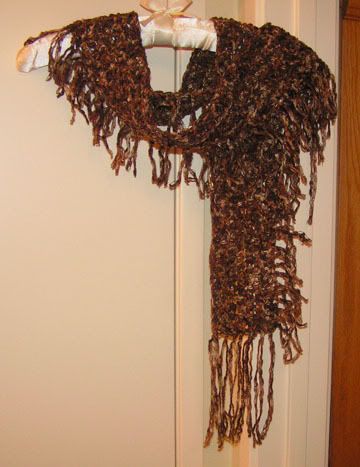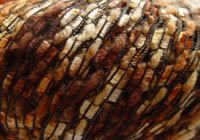 That's it for crocheting this weekend. Gotta get ready for Halloween and get those treat bags done up ~ I don't want to get TP'd or anything. Have a great day!