So... I've been getting the updates on The Hobbit movie. There will definitely be 2 with the second being a bridge movie. They're quickly bringing back a lot of the characters from LOTR - I'm assuming for the bridge movie as the majority of them did not exist in The Hobbit. Peter Jackson is finally at the directing helm after Del Toro had to leave due to delays. All worked out in the end ;o) Although Del Toro has done some excellent work, he is quite dark and I just couldn't see how his style would translate well in a basically light-hearted story.
On another movie-related note, I finally got around to purging the old DVD collection. A shop opened up in the neighborhood that buys, sells and rents DVDs. So I packed them up. Can you believe I sold over 900 of them?! Talk about out of control. I still have a couple hundred left, but won't be parting with them anytime soon. Most are not available in digital and some might never be. Somehow, I don't think Dark Shadows is high enough on anyone's list to convert to digital.
On the crochet front, I just may have burnt myself out for the time being. I keep trying to start projects - and I like the patterns I'm picking - but I get a ways into the project and push it aside. I did a lot of crocheting after Kirby passed for therapy. Maybe I just need to put it down for a while and pick up another spare-time hobby that I can do while I'm drooling on myself after work in front of the TV. Cross-stitching has been popping into my head as of late. And Crewel.
This guy is kinda cool. I've done one other dragon who resides on the wall next to my bed. This one could be a partner on the other side.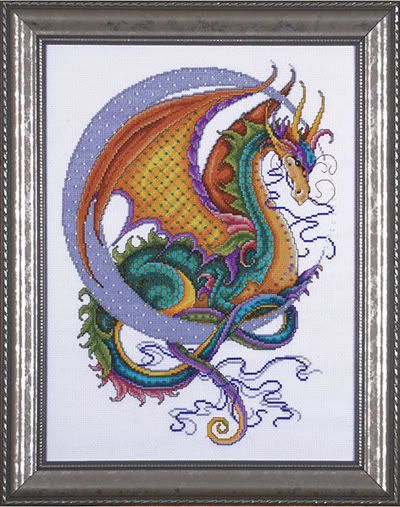 I found him at
The Stitchery
(unfortunately, it's a kit that is currently out of stock, otherwise, I would have grabbed him tonight.) It's done up on 14ct, but I think I'd change to 18ct as I think the smaller thread count makes for a nicer finished product.
Paco is staring at me indicating that I'm not providing him with enough quality time and/or attention (all depending on your definition of 'quality time'.) So I'll end it here for today. Catch you on the flip side!