Which also means I'm clearing a couple of WIPs off the list ~ YAY! Today I finished off 2 potholders and a beach bag. I've been on a Drops yarn kick since I ordered the first ball of

Muskat Soft

. I just love this yarn! It's a smooth cotton between a sport weight and size 3 leaning more toward sport weight. The quality is wonderful as the plies are many and very thin. This translates to me as no pilling. Plus the variegated yarns just scream for something fun to be made with them. There are only 2 places I've found on the net that sell it. I've been buying mine at

Nordic Mart

. They have super-fast shipping and are very, very friendly!




The red is my favorite. As you're working with it, you are consistently surprised as to which color comes out next. Very fun to work with. So out of the red, I made these

potholders

to try it out.




They are made with 2 strands which gives them a great marled look. I altered the loop at the top as I hang mine right against the wall and the loop in the pattern wasn't working out so well for that purpose. I'm thinking of making placemats with it as well. Won't that look great on a summer picnic table?

I was originally going to make

this purse

, but since I just finished making squares, I was not in the mood for more immediately after. So instead, I made the

beach bag

.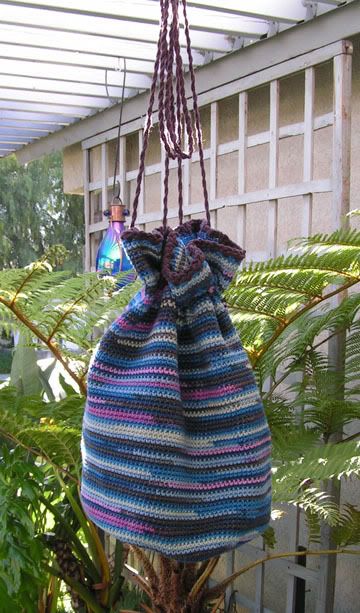 The top edge is done in

Ice

which is a bulky weight cotton (brown yarn in first photo.) And you'll find the pattern here. I did not alter this one at all ~ I followed the instructions all the way. The cording instructions were a bit confusing, so if you decide to make this bag, you are making 2 straps using 1 strand of yarn for each. I had made 1 strap using both strands and went huh? Then I got it. Could just be me though... :oP
So that's 2 projects completed. I have finished the squares for the Boho sweater mentioned in my previous post, so I'll be spending the better part of the remainder of the day weaving in those ends and assembling them. I want to get that one off my plate before I have to go back to work on Monday.
Then... I'll be organizing the bazillion WIPs that remain and decide which ones I'll actually finish. No guarantees that I won't buy more Muskat though and start something new :oD
Ciao for now!