I'm dedicating this post to my mailman who put a small box of yarn in my community-sized mailbox. It apparently fit going in on his side, but is too large to come out of my side. I can't get it out!! It was yarn that I had ordered to finish a beach bag. All that is left to do is the edging and the straps! You'll find the pattern I'm working on
here
. Needless to say, I'll be waiting for the mailman today. Good thing I'm still on vacation.

I've also started a lightweight pullover sweater for my girlfriend's little girl. Since it's made with squares, it's going fairly quickly and I am excited to get it done. It's the Boho Blocks Pullover from the Fall 2006 Interweave Crochet mag. I'd post a link to the pattern, but unfortunately, they've taken it down. I have the published PDF if anyone is interested. Just send me a message. Anyway, I'm making it with Bernat's Satin Sport in Beige. It's a yummy color ~ literally ~ it reminds me of a warm bowl of nice creamy oatmeal.
Isn't that the cutest kid sweater?

Bowl of oatmeal for color reference
And this morning I purchased 2 Stitch N' Pitch tickets for the Seattle Mariners vs.
San Diego Padres
game on June 29th. This is the first time I will be attending a
Stitch N' Pitch
event, so I'm a little excited. Hubby appears to be excited as well. It's a WIN WIN! I also managed to get great seats too ~ field box seats on the 3rd base line, 24 rows back. Usually when I get around to buying tickets for a game, we're in the nosebleed section. Here's the view: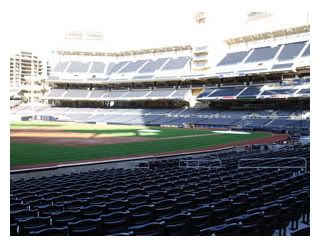 We might actually get a shot at catching a foul ball ~ better bring the mitts.
So that's it for this post. If I don't post before, have a great weekend!