Boy Howdy. I finally get knitting. I have purchased every kind of knitting needle out there and it was finally the

Clover Flex needles

that did it for me. These are only about 5.5 inches long with a bead-ended cable. MUCH more comfortable in the hands than traditional straight needles, and far less awkward for this crocheting fool. (

Joann's

is having a 50% off one item sale in case you'd like to try a pair.)

I was piddlefartin' around on Sunday and finally decided to break these needles out (I purchased them months ago.) Grabbed a

beginner dishcloth pattern

at Lion and went for it. Below is the finished product.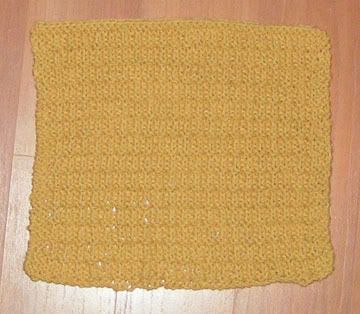 I find that knitting is a bit more fussy than crocheting. It seems you spend a lot of time positioning the yarn in order to make a stitch (bring it forward, send it backward, push the stitches up on the needle, push them down on the needle...) But it's ok, I did manage to develop a rhythm.
I obviously need to practice casting on. My cast-on stitches are all uneven. I also need a bit of work on keeping the tension more even as I knit. But I'm getting it. This was a great beginner pattern as it had you frequently change stitches and row patterns, but not so often that you'd lose track of where you were at. So I think with a few more dishcloths or simple scarves under my belt, I'll be ready to rock and roll!