Nope, not monster truck races or WWF. Just a quiet Sunday at the old homestead. The day will involve dog bathing, movies and yarn as usual. On today's tube will be a selection of mind-benders:

I'll let you know if they're any good or not ~ LOL.
I'll be working on my KAL to continue to hone those knitting skills and when my wrists get tired of that motion, I'll start on something for this month's CFL challenge.
Sandy's post on her blog reminded me that I had not yet done up my obligatory square for Krochet Krystal's daisy square pattern. Heavens to Mergatroid! Exit, Stage Left. So I worked up one real quick. These are used to create afghans for charity. If you are interested, you can get the details here.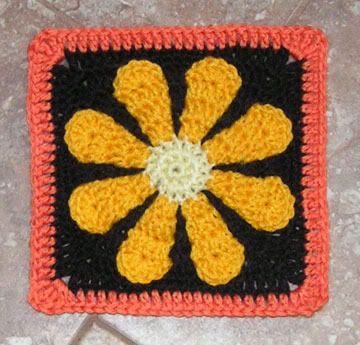 I may work up another one later in different colors with a white background. This one doesn't float my boat too much, but I figured it can get lost amongst the other squares that she'll use.

The sewing bug is also starting to rear it's head. I haven't sewn anything in... well... I can't remember when. So in perusing the pattern sites, I ordered the following tote patterns:


McCall's
M5823
Butterick

B5006
I've got a chest drawer full of neat tapestry fabrics that I've picked up here and there which I can use to make these neat totes. The second pattern also includes a roll-up hook/needle case too :)
And that about sums it up for today. Have a great rest-of-the-weekend!