Waiting for me when I got home tonight was my exchange package from Minky (Kathy) from CFL. She was my partner for the Fall / Halloween exchange that I spoke about in the previous post. And lookie how she spoiled me!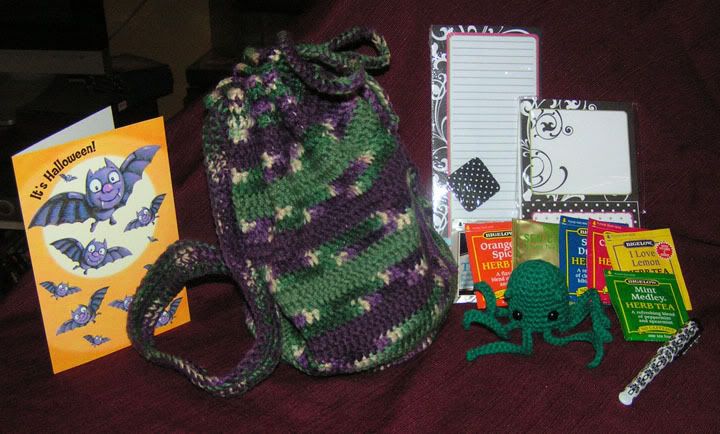 I got a very cool sling drawstring purse with a pocket-laden lining, yummy teas, a precious octopus, matching notepads, sticky notes and pen and a very cute Halloween card! I feel so very, very spoiled! So if you know Minky and have the opportunity to be her exchange partner someday, be excited. Be very excited!

~~~

Because there aren't enough projects on my list, I'm working on a
Ripple Bag
. The colors are pea green and honey, and I'm making it with Vanna's Choice. This pattern works up very quickly and would make a great last minute gift when you only have a short amount of time to get something worked up.

Here's a pic of the body of the bag. I probably won't pick this up again until the weekend, at which point, I expect to be finished with it. I'll be sure to post a finished pic.




Keep those hooks and needles flying!