So the big screen TV goes out on Thursday. The world has surely come to an end. My husband is pale and listless. I'm in a state of confusion without the background noise. Life is eerily different without the "turn that damn thing down" argument everyday. So on Saturday, armed with 4k, we go TV shopping. We're excited. After all, it will be nice to get that behemoth 54" projection TV out of the living room. We're looking for a flat panel HDTV, plasma preferred, of course.

So off to our little local 1-story Sears we go as they were having a sale on TVs. We're eyeballing a little 50-incher. It's nice, but I'm not thrilled with the resolution. You have to sit in just the right place for it to look good and it was the best of their lot. So back in the car and off to the next town to Best Buy.

OMG. We sat in the middle of their TV "theater" drooling. There was a particularly nice Pioneer Elite that was incredibly awesome. What Apple has done for looks, style and quality in computers, Pioneer has done the same for plasma TVs. The Bentley of TVs. It was 50", but you could stick your nose on the screen and the picture was still crystal clear beyond belief. And it was pretty. And it was 7k. Not to worry, we can finance. I paid off all the credit cards!

Then, the husband turns around and sees a 65" Panasonic. Not as stylish as the Pioneer, but an equally awesome picture. Mercedes Benz. Not a Bentley, but not shabby. 10k later, we walk out of the store. It will be delivered tomorrow.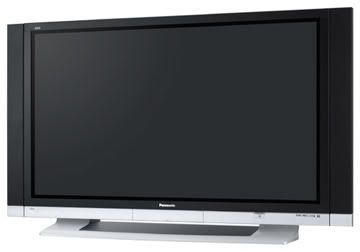 Click on the pic for specs