OK - I've been negligent a wee bit while I've been off work. So in honor of my last day before I go back to the salt mines, here are pics of things I've been working on.

I picked up
Patricia Kristoffersen's Beautiful Baby Borders Blankets
booklet and started an afghan for our admin at work. She's another one that thought she was unable to have kids and oops ~ Surprise! So I thought I'd make something a little more special than what I would normally make for a co-worker. The lavendar is Caron's Perfect Match, all of the other colors are Lion's Pound of Love.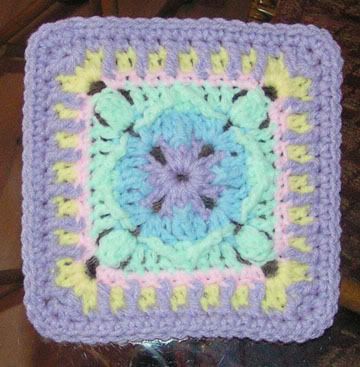 First, the pain-in-the-butt squares. Every row is a different color. But the effect is lovely. I have managed to finish the 24 squares that are needed.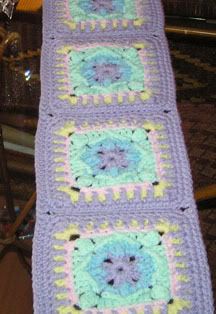 Then sl st'd together and edged.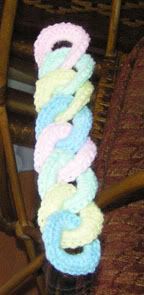 In-between the square strips will be ring strips. There are 28 rings to a strip and they're edged in lavendar like the squares. Again, each ring in succession is a different color, so the work is a little slow-going. And that's it on the baby afghan for now.

Next up is an afghan I have half-heartedly started and work on between projects. I'm calling it the Morocco Afghan because of the colors. The square pattern is the
Friendship Jewel Square
. I'm not sure yet, but I'm thinking I'll use Drew's joining method (
called Dude Assembly
) instead of sewing them together. I haven't even thought of the edging yet, but it will likely be rather plain. I'm making this with Vanna's Choice.




Next is a hat that I crocheted for one of CFL's OTW MCALs. It was the last of the holiday MCALs which was for charity. The pattern is
Luxury Hat
from Woodhill design. I'll be getting this off in the mail tomorrow.




And last up on the picture taking extravaganza is another CFL MCAL ~ Heart Sachets. All were made in thread, the white and pink one in size 3 and the peach one in size 10. A few ribbon roses for decoration and voila! A nice valentine's gift for someone special.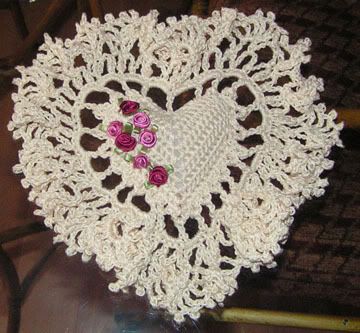 This one will go into a gift basket with some candy for my mom. The color is bridal white which is really a light cream color. What are they saying do you think? lol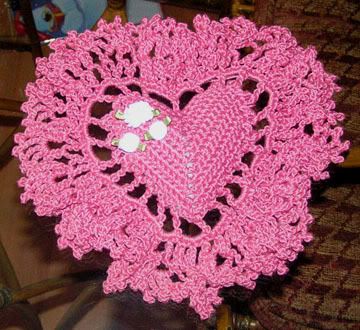 Haven't named who this one and the peach one are going to yet.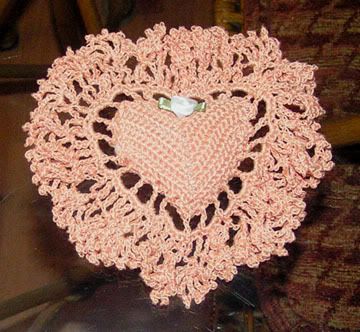 All 3 of them for size comparison. When made in size 10 thread, it comes out oh-so-dainty to tuck into a lingerie drawer. The larger ones can also be used in the drawer, but I think they look nicer on a bed or dresser.
My hearts are a slight modification from an old vintage pattern which can be found
here
. I simply make them in 1 color instead of 2 and sew the pillow closed before the edging is done instead of after (what were they thinking?)
And so ends my Christmas vacation crochet! I'll be continuing to work on those afghans and who knows what else. I hope your holidays were happy ones and I look forward to more avid crocheting in 2008!