Hi All! As some of you know, I've been off work for the past week. We didn't have any plans, this was simply a week off for me to decompress - do whatever I felt like each morning I woke up. It's my favorite kind of vacation, short of spending the whole time off at the beach.

For the most part, I piddlefarted around. I made a mini Martha poncho for my girlfriend Gretchen's little girl, Elisabeth. She's working on 19 months on this planet. She makes it a better place.


Poncho On
Poncho off

Angelic face

So we didn't get a pic of her in her poncho to share with you all. I didn't blame her. It was hot and humid. And you know how little ones hate clothes anyway (run naked, run free!)

So anyway, Gretchen lives just a block or so away from the beach in Oceanside. I'm so jealous! Her mom graciously babysat while we went for a stroll on the pier and grabbed a bite to eat.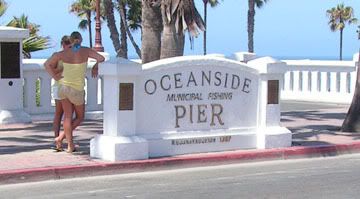 They've re-done the pier as part of an overall community improvement project. Everything is so nice and new and bright!




Does this look like the stereotypical California beach or what?
I wish they all could be California girls... owwmm do be do wop, owwmm do be do wop...


A Ruby's Diner has been built at the end of the pier. We grabbed lunch there. It was nice to be surrounded by the ocean while we ate. So very relaxing.
Here we come on the run with a burger and a bun...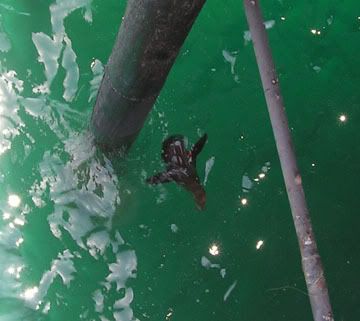 While we waited to be seated, a seal came by to play beneath us. I took a bazillion pics, but this one was the best of the lot. I want his life. Well, at least until a shark comes along... but then again, Richard Dreyfus would save me!




The Oceanside Pier is one of the last few in California that still allows you to fish off of it.
Fish heads, fish heads, roly poly fish heads. Fish heads, fish heads, eat them up ~ yum!


The water was particularly clear and blue that day. In the distance, you see signs of (over) development. The 2 tallest buildings on the right are brand new beachfront condos.
As an American citizen you are entitled to... a heated kidney-shaped pool, a microwave oven...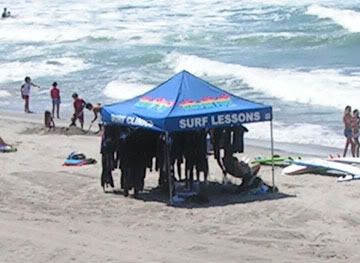 After lunch, I asked Gretchen if we could go by her LYS. Although she's not a crocheter or knitter, she's a good sport. Unfortunately, they had gone out of business. I think it's this guy's fault. The guy that gives the surfing lessons. Hey You!

It was a lovely day at the beach visiting with one of my bestest friends. Then it was back home again where all the yarn is! I finally finished off the Solo afghan that has been staring at me for months. The pattern did not call for an edging, but to add tassels to the four corners. I knew that after a little wear or the first washing that tassels would become a knotted, matted mess as Solo is not a tightly spun yarn and it's very fuzzy. Plus I didn't like it without an edging after I had finished sewing the squares together. So I simply added 2 rows of hdc all around. I'm good with it!


Before I went visiting, I had started a matching Martha poncho for Gretchen so her and Elisabeth would be matchy-matchy mother/daughter. I know. Corny, but definitely cute. Unfortunately, the clock ran out and I didn't finish it in time. So I kicked it out today and will send it to her in the mail. It's not like it's cold yet anyway.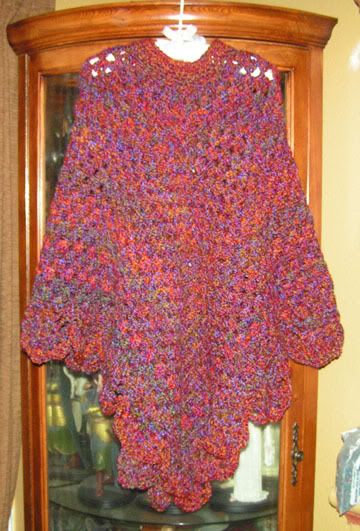 I made both ponchos with Homespun in Corinthian. Very bright and festive (and heavy.) Will definitely stand out on the beach when the little one decides to bolt down the shore ~ LOL!
Except for a sneak trip (or 2) to Michaels for (yet more) yarn, that about sums up my week off. It was sure nice while it lasted!!