Weekends are for resting and doing whatever you feel like doing. That's my philosophy anyway. However, it never seems to work out that way does it? So I'm stealing some time from my "adult" life to play on the net this morning.

In those few minutes I can squeeze some time with the hook and yarn, I've been making

wildlife rescue nests

for teeny critters. I've been ordering patterns and yarn on the net as I wake up in the morning with my coffee before work and the boxes are starting to come in, so that's always fun!

The LOTR madness continues ~ my

Sideshow

exlusive Boromir figure arrived yesterday! He'll be taking up residence next to Aragorn: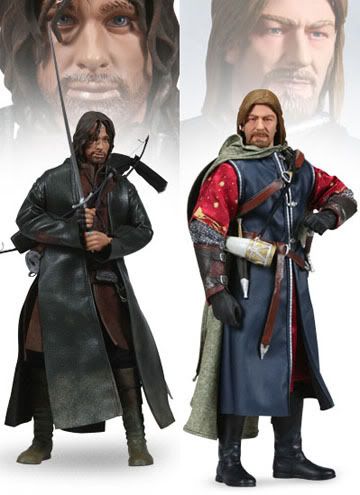 Faramir and Legolas are on order of course!




I think they did a particularly good job on Faramir :o) Of course, the husband is all crabby about it, but he'll get over it. All I have to do is remind him of his kayak/lobster adventure and all the money that went into that short-lived hobby and I'm home free! LOL

I really do need to catalog my LOTR collectibles, but it will be such a large job that I keep putting it off. I have 4 large curio cabinets filled with Sideshow sculptures, a jewelry box filled with LOTR jewelry, 5 swords, Gimli's axe, 27 autographed pics, 8 collectors editions of the books (includes The Hobbit and The Silmarillion - one of which is autographed by the illustrator) framed stills from the movie, an autographed letter from Peter Jackson, CD sets of the BBC plays, framed movie posters... and that's just the stuff within my immediate vision. Cataloging will happen someday I suppose when the mood strikes me, I'm sure.

Other than that, I had a few successes at work this week that I won't bore you with, but it made leaving on Friday a happy event instead of the normal trudging back to the car for the voyage home.

But today, it's more moving-related activities with my mom. Just helping her continue to unpack and settle in. Hopefully, this will be the absolute last of it!

More later~