As with most folks, I was out amongst the retail insanity on Black Friday. Surprisingly, it wasn't too bad. But our town is a bit smaller than most ~ for now. Anyway, as I was gathering my plunder, I came across the PERFECT Christmas Card to use for my doily card idea at Target. In fact, they had similar designs in red, green and white, so I bought all three! Why I didn't think of this sooner is beyond me as it would have saved a neuron or two.

Anyway, here be the final card. The cardstock is flocked velvet tone-on-tone, so adding a red coaster is definitely in the theme. I think the gold ribbon sets it off perfectly. The colors are deeper than what the photo shows, but you get the gist.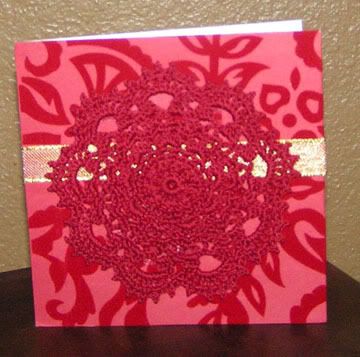 So ends THAT mission! LOL Now on to the next, getting the tree up and decorated and get a few projects in the washer to felt.
Ciao for now!